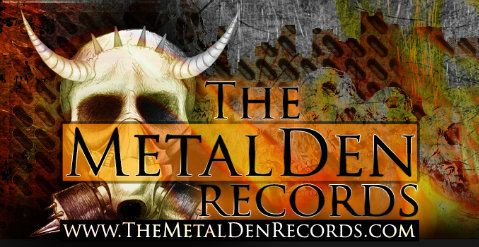 THE METAL DEN RECORDS
(www.themetaldenrecords.com)
Label Representation Agreement
The following shall constitute the Agreement between THE METAL DEN RECORDS, a unit of TMD PROMOTIONS and BAND, dated ______ 2014, with respect to its representation of professionally produced sound recordings delivered by BAND. The CD is only to be manufactured, marketed and distributed by THE METAL DEN RECORDS.
The parties hereto agree in good faith to be consistent with the terms of this Agreement, and this Agreement is deemed binding and effective immediately and shall constitute the entire agreement between the parties.
I. PURPOSE:
A. BAND will provide the album master recording which is subject to the approval of THE METAL DEN RECORDS. Label must acknowledge the master is deemed ready for the marketplace. The ownership of these recordings always remains with the band.
B. BAND will provide their own album artwork.
C. BAND will be available at all reasonable times for promotional opportunites, online or in person, whether earning an appearance fee or not as long as it is not conflicting with current tour scheduling. This includes TMD site reviews, interviews and in-stores appearances on behalf of www.themetalden or www.themetaldenrecords.com, including site promos, radio interviews and charity events.
2. MARKETING AND PROMOTION:
A. In addition to TMDs committed online marketing of BAND's sound recordings during the Agreement period at TMD's official news site (www.themetalden.com), TMD will promote the CD heavily via all its corresponding social sites on Facebook, Twitter, ReverbNation, Youtube and Myspace.
B. BAND merchandise sold via www.themetaldenrecords.com is split 70/30 between BAND (70%) and LABEL (30%). BAND must produce their own shirts and merchandise. BAND keeps all profits at shows/events not organized by TMD Promotions.
C. A photographer is provided by BAND and zero music videos are to be funded by LABEL.
3. ROYALTY:
A. BAND earns 50% royalty rate of CD units sold via physical/digital distribution of
THE METAL DEN RECORDS (www.themetaldenrecords.com), this includes all CD's sold out at shows the band performs at during the Agreement period.
B. Royalty payment is sent out in one lump sum to BAND each quarter.
C. LABEL makes final determination on retail price of CD.
4. TOURING:
A. BAND will be available for touring in US at all reasonable times after album is released.
B. BAND retains all appearance fees, unless event has been booked or organized
by TMD PROMOTIONS (then 50% commission is paid to TMD). It is to be noted that THE METAL DEN RECORDS is not a booking agency nor does it ever act as the BAND's business manager, though is inclined to step in and secure engagements that are approved by the band and its management, as it relates to the overall promotion of the record.
C. No illegal activity is allowed online or while out on the road when representing THE METAL DEN RECORDS in the public.
5. TERM:
A. One year from the time of the official album release date.
B. LABEL retains 'exclusivity' to re-sign BAND 60 days from end of agreement period.
6. TERMINATION:
A. If at any time during contract period this agreement is breached by one party, the other party can issue a 'breach letter' via certified mail, giving the other side 30 days to comply or this Agreement at that point becomes null and void.
B. Any remaining monies owed to BAND by label must be paid out in full within 30 days of termination date.
C. Once termination occurs BAND is released of all its duties as it relates to THE METAL DEN RECORDS and can do as they wish with their product within the marketplace from that point on.
7. FEE:
A. A one time $3,000 administrative fee paid up front by BAND to LABEL.
B. There is no refund allowed whatsoever.
C. This fee must be secured via Pay Pal only.
The parties have duly executed this agreement by the authorized signatures below.
____________________________DATE: _______________________DATE:
Owner/Operator: Randy Cody BAND Primary Contact
THE METAL DEN RECORDS
www.themetaldenrecords.com


NOTE: If your band is interested in applying with The Metal Den Records, send EPK (Electronic Press Kit) to: themetalden@gmail.com/subject line needs to read: Join The Metal Den Records! Deadline for this offer is December 31st, 2014!!




http://www.themetaldenrecords.com/